Blanck Mass
25/06/2019
__________________________________________________________________________________
NEW BLANCK MASS ALBUM 'ANIMATED VIOLENCE MILD' ANNOUNCED / LISTEN TO LEAD TRACK 'HOUSE VS. HOUSE'
Friends. Today I am overjoyed to announce my 4th Blanck Mass LP. It's called 'Animated Violence mild' and will be released this year on August 16th via my good friends Sacred Bones Records. The artwork (a collaboration between Alex de Mora, Lucie Red and Middleboop) can be seen below. Just down there.
'Animated Violence Mild' was written, recorded and mixed by myself at The Loft in Edinburgh during 2018 and was mastered by the genius mind of Heba Kadry. I sweated a fair bit making this one so I hope you like how it tastes.
So, should you feel like it, you can preorder the vinyl from Sacred bones HERE, Bandcamp , digitally from Apple Music HERE and the Spotify single of 'House Vs. House' is HERE
And you can listen to the lead track 'House Vs. House' below:
Thanks for always sticking around to see what I make next.
Taste the rainbow,
Blanck Mass
05/06/2019
__________________________________________________________________________________
'ODD SCENE/ SHIT LUCK' 12" VINYL AND DIGITAL INFO PLUS UPCOMING LIVE SHOWS
Last month on RSD UK I released new tracks 'ODD SCENE/ SHIT LUCK' on 12". A few of you in North America were wondering about getting copies as it was a UK RSD exclusive, but I'm pleased to say there are some copies over at the SACRED BONES website If you wanna grip something physical. The EP is still available digitally on ITUNES, BANDCAMP, etc.
ICYMI, here's ODD SCENE:
ALSO
NEW LIVE SHOWS ANNOUNCED. Starting this Sunday:
20TH MAY - Leipzig, Germany @ Haus Leipzig - TICKETS
22ND MAY - Krakow, Poland @ Something Must Break - TICKETS
25TH MAY - Glasgow, Scotland @ Museum Of The Moon - TICKETS
9TH JUNE - Prague, Czech Republic @ Meet Factory - TICKETS
10TH NOV - Birmingham, UK @ The Crossing (support to HOOKWORMS) - TICKETS
Keep checking in as more live shows will be announced soon.
One love.
BLANCK MASS
16/05/2018
__________________________________________________________________________________
'WORLD EATER RE-VOXED' DIGITAL EP AND 'ODD SCENE/ SHIT LUCK' LTD. R.S.D 12"
Friends. I have two pieces of music news.
Today I release 'WORLD EATER RE-VOXED'. A digital only EP released through SACRED BONES featuring four remixes of material from last year's album WORLD EATER. Remixes on the EP come in from my friends ZOLA JESUS, GAZELLE TWIN, NAKED and M. LAMAR. These remixes also all have vocals added by each artist in effect making them new collaborative tracks. They are quite delicious.
Below is the artwork and the a place to hear the 'PLEASE' Re-Vox by Zola Jesus
It's already available to buy and HERE through Sacred Bones and Bandcamp HERE, if you're game.
ALSO, I have more new music coming out in the form of the 'ODD SCENE/ SHIT LUCK' 12" which will be available for Record Store Day UK, Saturday 21st April 2018.
These are two new Blanck Mass tracks that I wrote and recorded over a few days in January 2018 that will be limited to 1000 copies and once they're gone, they're gone. Available from most decent record shops that participate in the whole thing. Artwork below.
In usual R.S.D style fashion you'll have to get in there quickly.
That's it for now.
Be good, people
BLANCK MASS
17/03/2018
__________________________________________________________________________________
NEW BLANCK MASS ALBUM 'WORLD EATER' OUT TODAY
"World Eater" is out today on Sacred Bones Records on Ltd LP/LP/CD/DL
For further information; CLICK HERE
_________________________________________________________________________________
NEW BLANCK MASS ALBUM 'WORLD EATER' ANNOUNCED / LISTEN TO LEAD TRACK 'PLEASE'
People. It's with great pleasure that I announce to you the 3rd Blanck Mass LP 'World Eater'. This was a real journey, so I hope you get some solid satisfaction out of it. It's coming out once again through my family at Sacred Bones Records, and is out in full on March 3rd 2017. Below is the artwork -
To kick proceedings off, I'm streaming the lead track 'Please' just a few lines down. It's available for instant download and you can pre-order the LP on ltd. Black and Red marble vinyl from the webstore HERE. Digital on ITunes HERE and Bandcamp HERE
Thanks all,
BLANCK MASS
10/01/2017
_________________________________________________________________________________
'D7-D5' RELEASED ON 12" / PRE-ORDER
Yes people.
Pleased to announce I am releasing a very ltd. 12" single of my recent single 'D7-D5'. It out on my own imprint RICHTER SOUND and is ltd. to 500 copies.
The B side has this extremely attractive etching on it
Get your hands on one of them before before they are gone forever HERE
Check out the video for D7-D5 here >
Be excellent to each other,
BLANCK MASS
27/09/2016
_________________________________________________________________________________
NEW TRACK 'D7-D5' RELEASED FOR ADULT SWIM 2016 SINGLES CLUB
Easy now. Just today I released new track 'D7-D5' as part of the 2016 Adult Swim Singles Club. Very pleased to be a part of this. It's streaming now over at the Adult Swim website so you can go and listen and they're also selling ltd. prints and tees for the accompanying artwork. Nice touch.
Also, to coincide, my good friend Jake McGowan has made a video, which you can stream right here >
Awesome show, Great Job
Blanck Mass
20/06/2016
_________________________________________________________________________________
NEW 2016 LIVE SHOWS ANNOUNCED / ONLINE SHOP UPDATE
I've just announced another handful of shows for this year's ongoing tour in Scotland, Switzerland, Denmark, Finland, Sweden, Wales & England. As per usual, keep on checking back in as dates are being added all the time and being discussed even as you read this.
I hope to see you at one of the shows.
Secondly, I've just added a bunch of new shit to the BLANCK MASS ONLINE SHOP, like 'The Great Confuso EP' which there are just a few of left, and the 'White Math/ Polymorph EP'. There are also a few of the old tee designs plus the latest ltd. edition 'BLANCK METAL' tees. Get 'em while they're hot.
One Love
Benjamin John Power
07/07/2016
_________________________________________________________________________________
A-SYNTH FESTIVAL, ST GALLEN, SWITZERLAND - 1st OCTOBER 2016
I will be playing the A-SYNTH FESTIVAL in Switzerland on 1st Oct
_________________________________________________________________________________
AUSTRALIA & TASMANIA LIVE SHOWS ADDED TOUR SCHEDULE
I'm very happy to say that I'll be heading over to Australia and Tasmania for a few live shows early next month. I'll be in Melbourne, Sydney and Hobart. Dates are as below and you can buy tickets by following the links on the SHOWS page, as always.
Also announced are shows in Berlin, Stirling UK and more. My live schedule for 2016 is growing all the time so be sure to check back in for shows in your area, also for news on supports and all that kind of stuff.
Facebook event page HERE
Okay. Be good, friends
BJP
03/05/2016
__________________________________________________________________________________
LAST MINUTE LONDON LIVE SHOW ANNOUNCED!

Record Store Day (Sat 16th April) The Lexington / 8pm
Plus DJ SETS from my brothers MUMDANCE & The Haxan Cloak
TICKETS - http://bit.ly/1SbYUJ0
EVENT PAGE - http://bit.ly/1TC6B0C
—————————————————————————————————————————————————
BLANCK MASS UK & IRELAND APRIL 2016 TOUR CONTINUES…
… today in Leeds, and then beyond.
Tickets, as always, are available HERE
See you there friends,
Ben
06/04/2016
—————————————————————————————————————————————————
'THE GREAT CONFUSO EP' ANNOUNCED / NORTH AMERICAN LIVE DATES
Today, I announced some new Blanck Mass music in the form of 'The Great Confuso' digital EP. It's available to buy right now and consists of new material in the form of an 18 minute title track in three parts (Pt. III features guest vocals from Genesis P-Orridge of Psychic TV/ Throbbing Gristle), plus three remixes of DUMB FLESH tracks for Dalhous, Genesis P-Orridge and Konx-Om-Pax.
can be found at the Sacred Bones website HERE and ITunes HERE
Hear the 'The Great Confuso Pt. I' below
To coincide with this news, I am happy to announce a string of North American dates, taking place March 2016. Incredibly happy to have rescheduled as best I can and to finally make it out to play for you all. DATES BELOW:
Mar 04 - Toronto, ON - The Drake
Mar 05 - Montreal, QC - Bar Le Ritz
Mar 06 - Philadelphia, PA - Johnny Brenda's
Mar 07 - Brooklyn, NY - Baby's All Right
Mar 08 - Washington, DC - DC9
Mar 10 - Minneapolis, MN - 7th Street Entry
Mar 15 - Austin, TX - SXSW
Mar 16 - Austin, TX - SXSW
Mar 18 - San Francisco, CA - Rickshaw Stop
Mar 19 - Los Angeles, CA - Resident
I'll get the ticket links up as soon as they are live for all these dates.
Can't wait to see you all,
BJP
03/11/2015
—————————————————————————————————————————————————
ORDER THE GENESIS BREYER P-ORRIDGE 'NO LITE' REMIX 12"…
… Before they all sell out as, again, there are only 500 of these and will sell out very quickly. Here are a few links to preorder this super rare wax
USA - SACRED BONES RECORDS
EUROPE/ UK - NORMAN RECORDS or BLEEP
Don't say I didn't warn you…
Have a advance listen to the remix here
Godspeed,
BJP
23/09/2015
—————————————————————————————————————————————————
GENERAL UPDATE/ SEPTEMBER 2015
There's quite a bit to fill you in on. Here goes nothing…
GENESIS BREYER P-ORRIDGE/ BLANCK MASS 'NO LITE' REMIX 12"
I'll start with the news of a very exciting BLANCK MASS/ GENESIS BREYER P-ORRIDGE (Psychic TV, Throbbing Gristle) 12" remix vinyl, being released by SACRED BONES on October 16th 2015. The Blanck Mass track remixed by Genesis herself was 'No Lite' from Dumb Flesh. It's limited to 500 copies and is expected to go very quickly. USA can preorder HERE and details of where to order from the rest of the world will be announced soon, although it will be available to buy in store at decent record stores.
Grab one before they run out.
*
'BLANCK MASS PRESENTS… THE STRANGE COLOUR OF YOUR BODY'S TEARS' RE-SCORE
over the past 6 months or so I devised and undertook a project (commissioned by East End Film Festival) in which I chose several artists to collectively re-score the contemporary Belgian Horror movie 'The Strange Colour Of Your Body's Tears'. The soundtrack has now been released by DEATH WALTZ RECORDS and is avaliable to buy on double vinyl 12" HERE. Here's a little from the press release to explain the project in more detail:
"Death Waltz Originals are proud to present a spectacular new record curated by Blanck Mass & commissioned exclusively by the East End Film Festival, an alternative score to the 2013 film THE STRANGE COLOUR OF YOUR BODY'S TEARS, directed by Bruno Forzani and Héléne Catet. A full-on homage to the Italian giallo films from Mario Bava and Dario Argento, the original release had no original score and instead used music from existing giallo films. Edinburgh musician Ben Power (Blanck Mass, Fuck Buttons) devised to use this as a stage for experimentation and collaboration with several artists from across the globe.
Each artist was given a scene to work with and was given complete free reign to restore the scene how they wanted to, without any knowledge of what was planned for the film by other musicians. Contributions came from Stockholm's Roll The Dice, London's Helm, Moon Gangs and Phil Julian, Glasgow's Konx-Om-Pax, and New York's C. Spencer Yeh, as well as Blanck Mass. The end result is a fascinating score that enthralls, seduces and terrifies in equal measures. Due to be performed live later in 2015, THE STRANGE COLOR OF YOUR BODY'S TEARS re-score is a testament to the quality of alternative artists working today, as well as evidence of the ongoing inspiration that Italian horror continues to supply to contemporary art."
Listen to "Laura's Blood' from the Soundtrack here -
*
JOHN CARPENTER'S 'FALLEN' (BLANCK MASS REMIX) GETS A PHYSICAL RELEASE
Earlier this year when JOHN CARPENTER released his new LP 'Lost Themes' I was one of the lucky few chosen to work on a remix of one of the tracks. Initially, the remixes were digital only bonus material. SACRED BONES have now decided to release the Carpenter remixes on physical format, which is amazing news. The 12" is available 16th October 2015, and can be pre-ordered HERE
If you missed my remix of 'Fallen' first time around, hear it now -
*
USA/ CANADA SEPTEMBER TOUR CANCELLATION
Regretfully I had to cancel this current USA/CANADA tour due to visa complications BUT i assure you that rescheduling is at the top of my list of priorities. Watch this space…
*
BLANCK MASS LIVE IN THE BOILER ROOM
I played live for
THE BOILER ROOM
last month. It's available to watch online now. Right here. Now.
*
GENERAL POSITIVITY
Thanks to all of you who have taken the time out to come and see my live shows. There are more and more live dates constantly being added into my calendar so don't forget to check back in to my SHOWS page to see what's good.
…New Blanck Mass music coming soon…
Big love,
BJP
08/09/2015
—————————————————————————————————————————————————
BLANCK MASS 'DUMB FLESH' USA LIVE DEBUT NEXT WEEKEND
Hola
I'm going to be playing material from DUMB FLESH live for the first time on USA soil next weekend and I am pretty excited about it. Details below >
Saturday 13th June > Blanck Mass Headline show @ Saint Vitus, NYC > TICKETS
Sunday 14th June > Main Support to Zola Jesus @ Warsaw, NYC > TICKETS
Just two shows in NYC this trip but I promise I will be back to tour North America/ Canada very soon. Watch this space ;-)
Looking forward to seeing you all there
BJP
03/06/2015
—————————————————————————————————————————————————
BLANCK MASS 'SEQUENCES' LIVE SESSION FOR FRENCH TV
I recently recorded a short live set for SEQUENCES, a series of electronic sessions for French television. You can watch the whole session below. Probably should come with an epilepsy warning >
So, there you have it.
Yours in heavy strobe,
BM
28/05/2015
—————————————————————————————————————————————————
'THE SKINNY' COVER FEATURE, ELECTRIC FIELDS AND LIVE UPDATE
As you can see below, Blanck Mass is the cover feature for the May 2015 issue of THE SKINNY. An honour!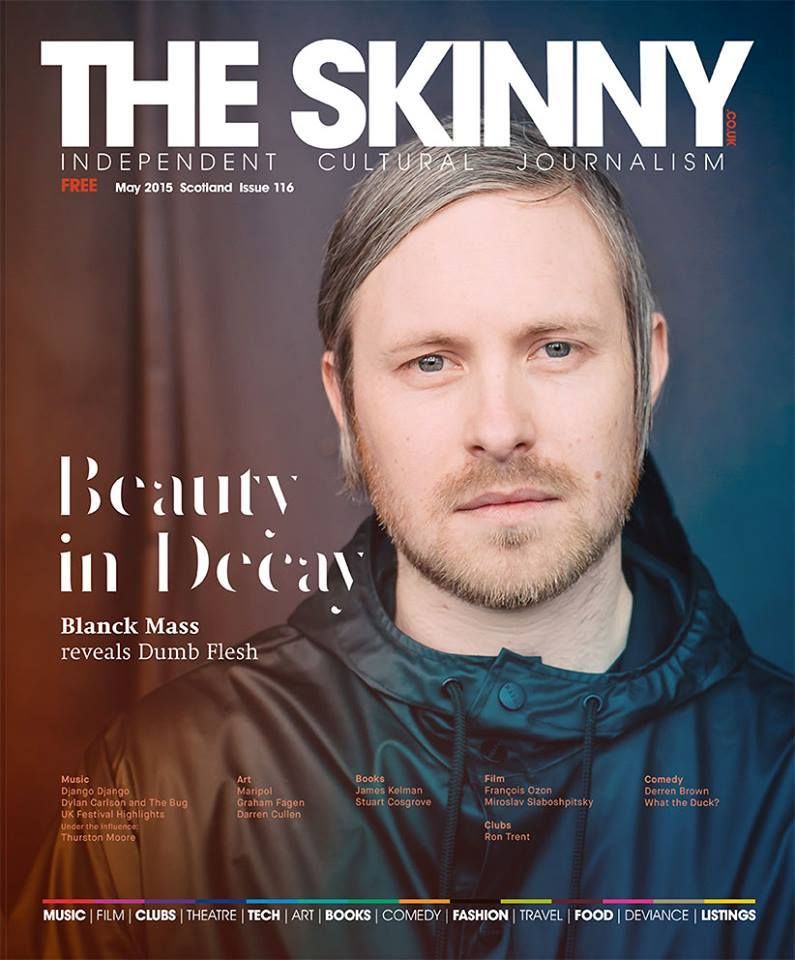 Leading on from this I'm pleased to announce that I will be headlining 'The Skinny' stage at this ELECTRIC FIELDS in Dumfriesshire, Scotland, this year. Details HERE
See you at the castle,
BM
29/04/2015
—————————————————————————————————————————————————
BLANCK MASS SHARES 'DETRITUS' & LIVE SHOWS ANNOUNCED
I'm very happy to share the second single from the forthcoming DUMB FLESH LP with you. It's called DETRITUS and can be heard here >
I hope you enjoy this one. Full length is out in just under a month.
Also, There have been a few new tour dates added to the SHOWS page, including The Great Escape in Brighton and Liverpool Psych festival. Here's a video for the Psych-Fest
Keep on checking in for upcoming Live dates as more will be announced over the next coming weeks
Respect,
BJP
25/04/2015
—————————————————————————————————————————————————
BLANCK MASS SHARES "DEAD FORMAT' VIDEO
Video made by Konx-Om-Pax
Enjoy,
BJP
30/03/2015
—————————————————————————————————————————————————
BLANCK MASS LONDON HEADLINE SHOW ANNOUNCED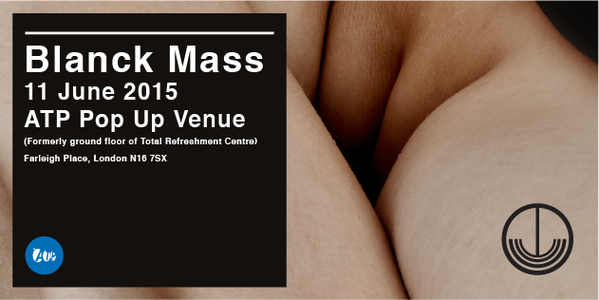 I'll be performing live on 11th June 2015 @ the ATP Popup venue (Formerly the ground floor of Total Refreshment Centre) in East london. Super excited to be playing new material from DUMB FLESH on the night. Support is yet TBC but watch this space for more info on that. Tickets available HERE
Look forward to seeing you there
BM
20/03/2015
—————————————————————————————————————————————————
BLANCK MASS SIGNS TO SACRED BONES
I'm very happy to announce that I have signed to the amazing SACRED BONES. My first release for them, the DUMB FLESH LP, will be out May 11th 2015 (UK) and May 12th 2015 (USA). Artwork and lead single DEAD FORMAT below:
Preorders for DUMB FLESH are now available from the following outlets -
ITUNES / AMOEBA (California) / ROUGH TRADE / RISE RECORDS / PICCADILLY RECORDS / RECORDSTORE.CO.UK / RESIDENT
Lead single DEAD FORMAT is available as a stand alone download from ITUNES now.
Ltd. Edition Clear Vinyl 1st pressing is available from all of the above outlets whilst stocks last.
Vinyl version of DUMB FLESH includes extra 'D side' extra track Life Science Ambient Suite exclusive only to vinyl release.
Check back in here for more info on upcoming 2015 tour dates and other news as it comes in.
Over and out,
BM
18/03/2015
—————————————————————————————————————————————————